Announcing pricing
AppHarbor has been available in public beta for one year and we wanted to share some incredible statistics. Our users clocked more than 26,871,840 hours of free hosting. AppHarbor received an amazing 117,587 builds. 18,291 builds did not compile or failed unit tests and AppHarbor stopped them from going live. We deployed and scaled 99,296 builds!
AppHarbor cares deeply about our community. We responded 4,201 times on our support forum, our median response time is 1h 34m. Our community is not only on AppHarbor and we go where they go, including a thriving community on Twitter and a fast growing group on one of our favorite sites, StackOverflow.
When we founded AppHarbor, we set out to give .NET developers everywhere an amazing platform to deploy and scale their applications in the cloud. A portable platform so that developers could move their application somewhere else without any hassle. A platform where developers could easily use 3rd party add-ons to enrich their applications. A platform where any developer can throw together an application and deploy it live for free. And a platform that our users could rely on.
We are committed to always have a free offering. Through the last 12 months one of the biggest concerns we have heard from customers, is that you haven't been able to pay us. We realise you want to know that we will be around for years to come. We always planned on offering premium plans, and today we are announcing two new premium plans.
Meet Catamaran and Yacht which will complement our newly branded Canoe free plan. Canoe comes with one worker, a complimentary yourapp.apphb.com subdomain and piggyback SSL using the apphb.com certificate.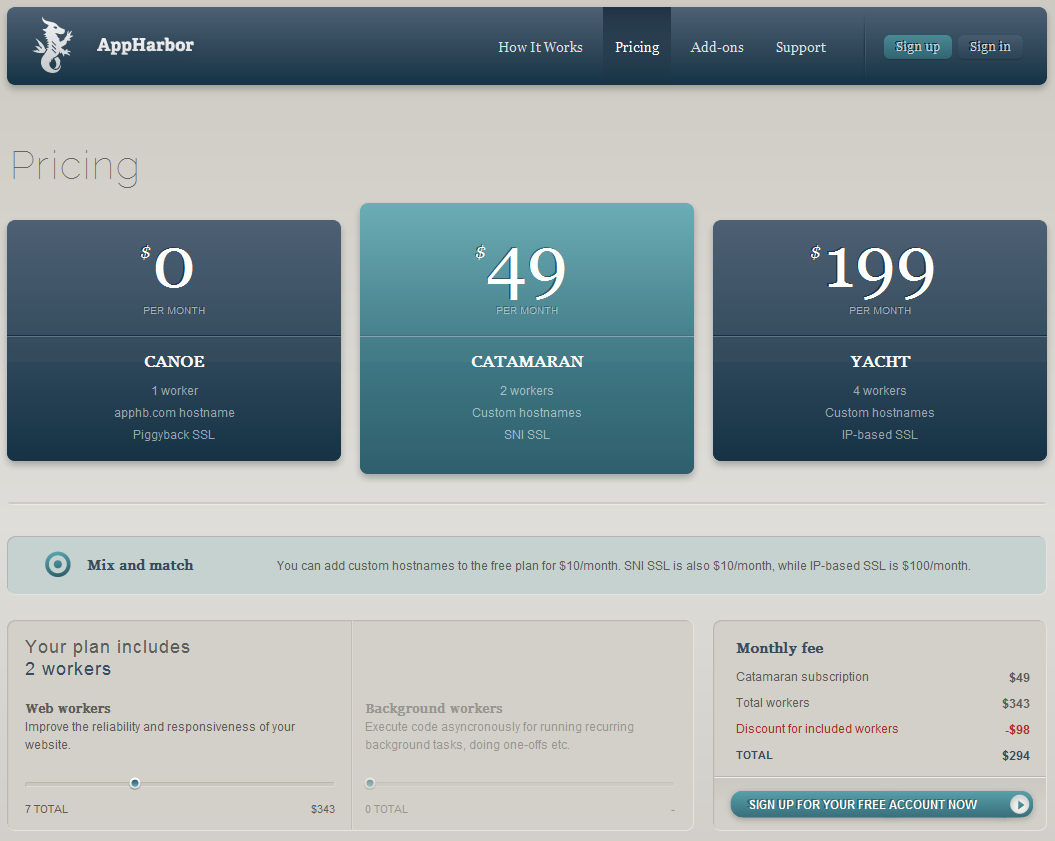 Like all AppHarbor applications, apps on the Canoe plan have access to our build service and continuous integration infrastructure. This includes built-in source code repositories, integrations with external source code repository providers such as BitBucket and GitHub, source code compilation, unit test execution and notifications for completed builds. Canoe apps also have access to the full catalog of add-ons many of which have free plans. Canoe apps are load balanced from the start, so it's ready to scale out when you need it.
Catamaran, at $49/month, gives your application 2 workers along with custom hostnames and SNI SSL. Yacht comes with 4 workers, custom hostnames and IP SSL for $199/month. Multiple workers are recommended for production applications, they increase the number of requests your application can handle and ensure that your application runs with no downtime in case of a sudden server failure. That is why we built it in to our paid plans.
If you are happy with the Canoe plan and just need custom hostnames or SNI SSL, those can be added a la carte for $10/month. If your app needs IP SSL with either the Canoe or Catamaran plans, that can be had for $100/month. Additional workers are $49/month and can be added to any plan.
The workers in our plans can be used as either web or background workers. Background workers are not available yet, but we are working hard on the remaining pieces and will launch a beta shortly.
Applications that already have custom domains or are using SNI SSL can keep using those for free for another month, until March 1st. Once the grace period expires, we will either start charging (if a credit card is added to your account) or downgrade the app. Applications that are currently scaled to two or more instances will be placed on the Catamaran plan.
We want our prices to be as straightforward as the platform itself. You don't need to calculate how much I/O you're going to use, or what amount of bandwidth you require. We've set some soft and hard limits, but chances are that you'll never exceed those.
We chose to charge for custom domains because our free plan is meant to be a great developer sandbox. Custom domains are a sign that what is being built requires a certain branding, whether it is a business product or even a personal blog. We think it is fair that users who get value from using AppHarbor share the costs of running the platform. We kept the price of a custom domain low and we do not intend to make money from it. In fact we plan to donate any profits generated by custom domains to open-source projects and charity! In addition, we are looking at other ways to support applications that provide a valuable service to the .NET community, non-profits and education, for example by extending additional free resources to such apps. Please drop us a line if you think your application qualifies.
Charging for AppHarbor ensures you can keep using our service in the future. It also means that we can start to offer more advanced features - starting today scaling to more than two workers and IP SSL is generally available to all customers. As always, we value your comments and feedback and look forward to keep improving what we already think is the best .NET application platform.
Thursday, 2 February 2012